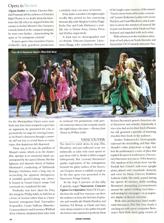 Trouble In Tahiti
Opera Canada Review
Winter 2011
Honestly we could not have asked for a better year! Our inaugural performance of Bizet's Carmen was a sell-out and garnered a gushing review from our industry magazine Opera Canada!
Hot off the press is Opera Canada's Winter 2011 edition and we were elated to see that our second show of 2011, Bernstein's Trouble In Tahiti, received equal praise!
Honourable mention goes out to the entire cast and production team! This is a great start to 2012!
To read the entire review simply click here!